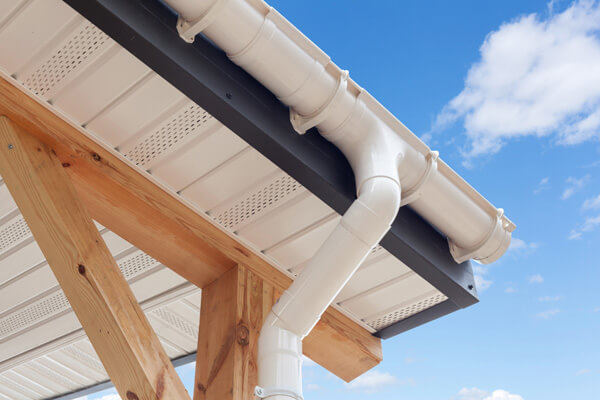 Did you know that the soffits and fascia on your roof affect the appearance of your home?
  Both are very critical parts of your building. Without them, pests can easily get in and the attic's ventilation is also negatively affected.
When ventilation is poor, moisture builds up
and causes serious problems to your roof and your home's energy efficiency. Every component of the home is crucial to its overall function. While soffits and fascias may seem minor, know that they are more important than you think! If you research the parts of a roof, you will find that soffits and fascia are primary topics.
Connect with reliable roofing contractors in your area using our short online form to compare free and no-commitment quotes.
Everything to know about soffits and fascia repair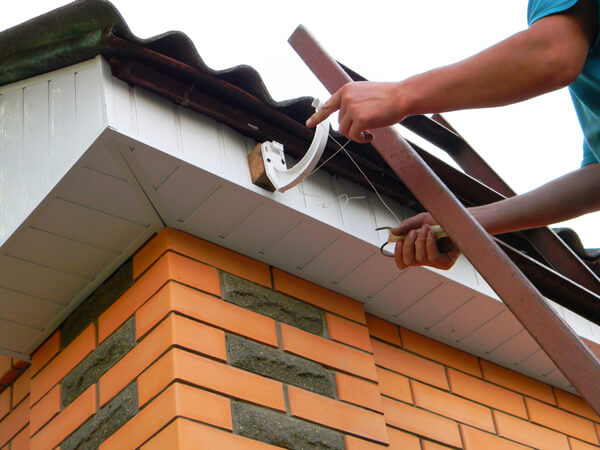 As mentioned earlier, the soffits and fascia are necessary to complete a roof. The soffit can be seen from the ground because it is installed beneath the fascia. It needs to be positioned in a manner that lets air to circulate freely within the lower roof. The fascia is a wooden board attached to the trusses and placed on the roof's edge. If you are a new homeowner, you need to understand the role that soffits and fascia play in maintaining the condition of your roofing system. Below you will find more details about each one so you can keep them in good condition.
Soffits: What they do and how to repair them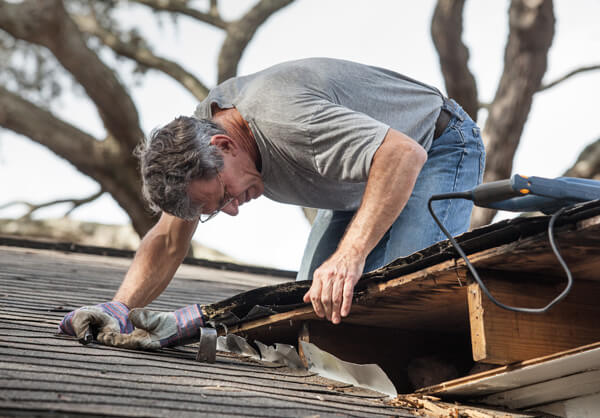 The overlapping section of a roof has a soffit installed underneath it. Small holes allow the air to circulate under the roof and the attic. These improve moisture control and the air quality in the home. As they are underneath the fascia, soffits are exposed to moisture and the outdoor elements. For this reason, moisture-resistant materials such as vinyl and UPVC are highly-recommended.
Soffits are directly underneath the roof's overhanging as it connects the siding to the roof
.  Thus, a
seal is created to prevent water from entering the home.
The soffit's most important function is to keep good air circulation and ventilation through the roof, especially during summer when hot air can get trapped. If this happens, the home's interior sweats which could result in
mildew or mold growth.
Trapped heat during winter can also result in ice dams on the roof
that can cause damage to the gutter system and the roof's shingles.
The soffits in your home also keeps pests away
.  When the soffit is damaged, unwelcome pests are invited inside your home. A routine inspection by a roofing professional can identify soffit issues right away. Unsupported gutters and leaks are probably due to soffit issues. Discoloration and leaks can also indicate issues regarding ventilation. For instance, if soffits are blocked, the attic will have poor ventilation. Keep the home well-maintained with professional repairs from roofing contractors.
The cost of soffits and fascia repair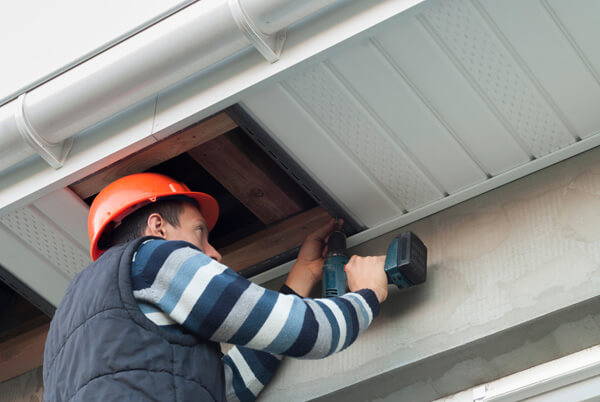 It is important to choose the right soffits. You must compare designs, materials, and styles of roofs to make the best choice. Many homeowners choose smooth or paneled styles to complement their home's design. A roofing contractor can advise you on the best soffit that suits your roof.
Repair of soffits and fascia boards cost around $12 to $15 per linear foot, on average
. This can come to about $3,000 for 250 linear feet. You will find that the costs vary among contractors and locations. Other factors such as accessibility of the roof (height, slope), fascia materials, and labor costs all play role in the total cost.
Contractors may also charge an additional cost for the removal and disposal of soffits and fascia
at about $4 to $8 per linear foot for labor and materials. The best way to get an accurate quote is to request for estimates from our experienced roofing partners.
Just fill out the short online form on this page and receive no-obligation offers.
The cost of a fascia board installation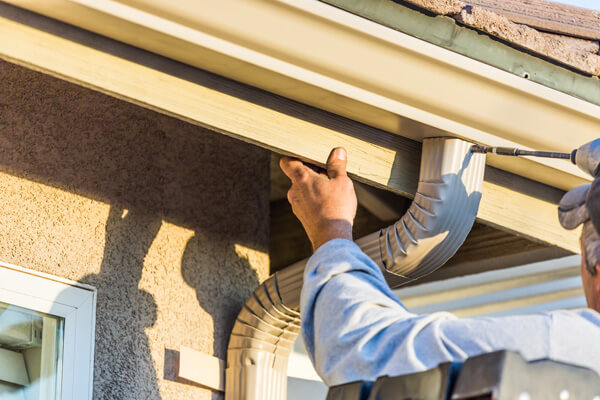 The most popular choice for a fascia board material is wood
. It is visually appealing, affordable, and easy to install.
Fiber cement
is another popular choice and is sold per square foot. Vinyl and aluminum are more expensive and harder to install but also require less maintenance. Compare the prices of fascia boards based on materials as shown below.
| | |
| --- | --- |
| Type of material | Cost per linear foot |
| Wood | $2 – $5 |
| Composite | $2 – $8 |
| Cement board | $2 – $5 |
| Vinyl | $5 to $10 |
| Aluminum | $10 to $20 |
Of course, it would be difficult to get an accurate quote from roofing professionals without details regarding the size, condition, and materials of your roof.
Connect with top roofing contractors in your area by filling out the short form on this page. Save time and money when you find your contractors from our vast network.
Signs of damage to your soffits and fascia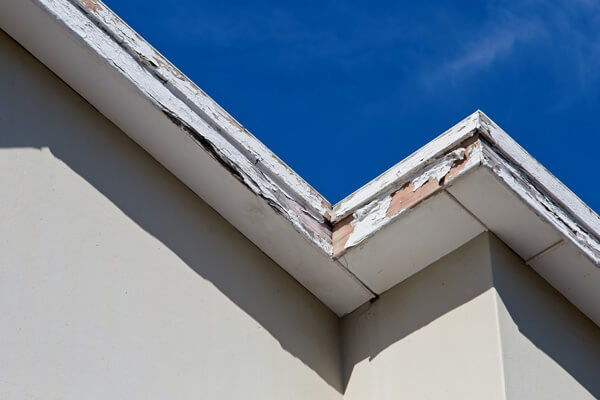 Your soffits and fascia need repairs if you see the following:
Leaks in the gutter
Overflow of water
Wall stains or brownish spots
Sagging fascia
Rotten wood
These signs require your attention whether you see only one or multiple signs. Damage to your roof can increase the longer you wait. It is not enough to repaint the fascia if you see discoloration. It only improves aesthetics but the inside of the fascia may no longer be in good condition.
Get a roofing contractor to inspect the roof and its components
to address issues and get the best solutions.
How to maintain fascia and soffits in good condition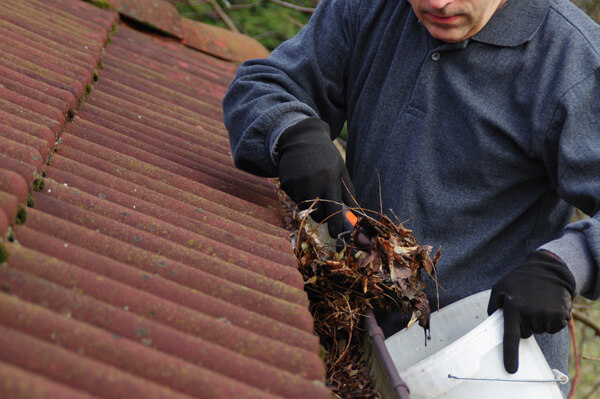 Maintaining the soffits and fascia board in good condition can save you a lot of money in repairs. Gutters and eaves, as well as the roof, are at risk if you neglect them.
Below are steps to take to maintain soffits and fascia board in perfect condition.
Inspection and cleaning of gutters annually. If gutters are blocked, water accumulates and weighs down supports. This can cause leaks and costly repairs.  Schedule annual cleaning of gutters by professionals for only a minimum price.
Upgrade drip edges. Drip edges cost as little as $1/linear foot. It directs water from the roof to the gutters to effectively drain the water.
Repaint the fascia board. If an annual inspection of the roof shows no problems are present, paint the fascia boards every few years to repel moisture and prevent rotting.
Fascia, Soffit, and Gutter Replacement
If you are getting a new gutter, you will also need to install new soffits and fascia board.  Contractors charge from $2,000 to $5,000 for installing gutter, soffits, and fascia. It is a good idea to get multiple quotes to compare to save money. Get estimates using our short online form from roof repair services in your area. Our partner contractors offer a wide variety of roofing services including:
Roof inspection
Roof maintenance
Attic air sealing
Skylights
Ventilation
Roof replacement
Roof repairs
Siding replacement
Soffits, fascia boards, and eavestrough
We have the best professional roofers in our network serving all of Quebec and Ontario!
Fill out our short online form, free of charge
, and receive multiple bids for your project to help you save time and money.
FAQS about roof repairs and roofing services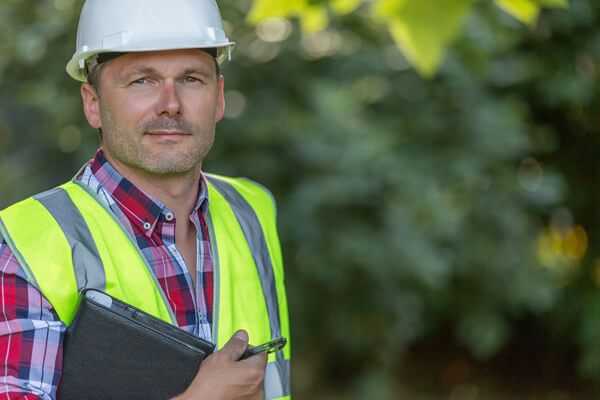 We know that you may have questions regarding roof repairs or roofing services offered by roofing specialists. Of course, when you observe problems with your soffits or gutter system, you would want to check if other issues are present so they can be resolved. When it comes to your roof and its many parts, our roofing partners can assist with whatever you require.
Why is attic ventilation important?
Proper attic ventilation prevents moisture buildup and prolongs the lifespan of the roof. It is also important to prevent the growth of mold and mildew and keep the air quality in the home at good and safe levels. When an attic is adequately ventilated, a cool and consistent temperature can be maintained inside the roof. The recommended attic ventilation is 1:300 which means 1 square feet for every 300 square feet. Half of the vents are normally placed close to the eaves.
How often should gutters be cleaned?
Many factors determine how often your gutters need cleaning. Many homeowners schedule cleaning twice a year. The start of autumn and the beginning of spring are ideal times for gutter cleaning. This ensures that the gutters are ready for falling leaves and for melting snow and rain. If there are many trees near your roof, leaves accumulate fast and cleaning of the gutters and eavestroughs must be done more often.
What is the function of soffits?
Soffits enhance the aesthetics of the roof but if plays an important role in the roofing system, too. It works like a skin to keep the rafter beams covered. Soffits are available in many colors and styles. If your rafter beams are not protected, mold can form and cause rotting.
Who should I contact for the replacement of gutters or soffits?
Many roofing companies offer services for the replacement of gutters, soffits, and fascia boards. They may also offer exterior siding replacement, roof repairs, and other services for maintaining the roofing system.
Why is aluminum better than wooden soffits?
Aluminum is higher in price but it does not burn, crack, or chip.  It may also be harder to insulate but overall, aluminum is a great choice for soffits.  It is also very stylish and durable and does not become brittle with sun exposure.
When is the best time to replace the roof?
Autumn is a popular time for roofing renovations because the temperature is ideal for work, asphalt seals well, and roofers can work efficiently. Of course, don't wait if you need emergency roof repairs.
Compare roofing quotes from reliable roofers near you
Whether you need new gutters, siding, soffits, fascia boards, or replace the entire roof, our roofing partners can help you! Roofing specialist throughout Quebec and Ontario are part of our vast network to serve your roofing needs throughout the year. Fill out the short online form below to receive
FREE and NO OBLIGATION
quotes from our partner roofing companies.
Take advantage of warranties for workmanship and materials for your peace of mind
from reputable and licensed roofing contractors.