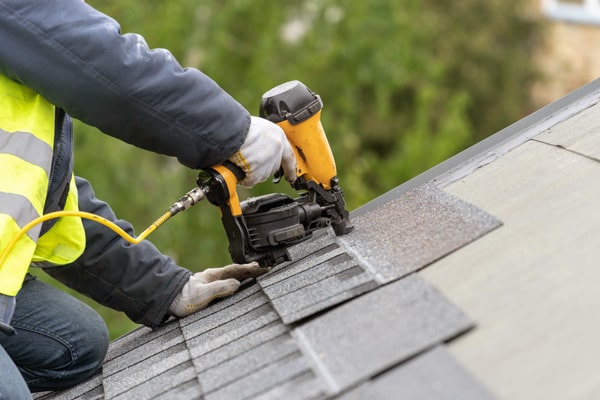 A roof replacement is a major investment. It is sure to cost thousands of dollars, depending on the size of your home. But while it can be quite expensive, it is a very important one because it protects your home, your family, and everything inside the home.
Because it is a sizable purchase, you want to make sure your new roof will last you many, many years.
For this reason, you must work with reputable roofing contractors in your area so that your new roof is durable and installed properly.
The first step would be to obtain multiple quotes from licensed contractors to compare and find the best deal. You will notice that roofing estimates vary based on the type of material and your choice of contractor.
Are roofing estimates negotiable? How can you lower the cost of your roof replacement?
To make your project cost-effective, you need to choose a high-quality roof from a roofing contractor. If you look for the cheapest one out there, you can save a few hundred dollars initially but spend thousands more on repairs in the future.
How can you negotiate the offer of a roofing contractor? It is always possible but certain factors need to be considered, too.
Let us show you how you can find the best roofing deal for your roof replacement before you sign a contract.
Once you are ready to compare roofing estimates, just fill out the short online form on this page to receive free and no-obligation quotes.
What is included in a roofing quote?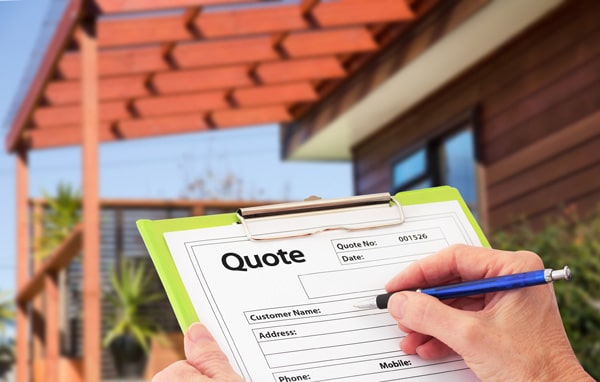 When you ask for a roofing quote from a contractor, the quote should include the following:
The type and cost of the materials;
Labor;
Transportation cost;
Additional costs (taxes, etc.)
Terms of payment
Schedule (Start and completion date)
Warranties
The contractor must also inform you if he is using subcontractors. A detailed description of the warranties (labor and materials) should also be included.
Choosing from potential roofing contractors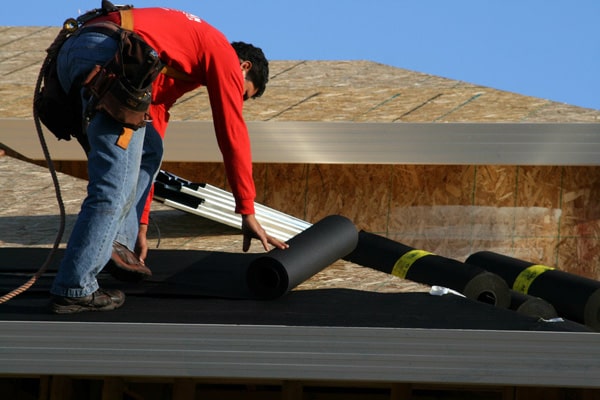 Smart homeowners know how to shop for a new roof by getting multiple estimates from different contractors.
That is well and good. Contractors will present you with details of their offers and sing praises for their roofing products to get you to sign a contract.
In most cases, however, homeowners only pay attention to the dollar figure at the bottom of the offer which represents the total cost. When this happens, the homeowner chooses the least expensive quote even if it is not the best choice.
Keep in mind that you want a roof that will last as long as possible based on the price and will also positively affect the value of your home.
Therefore, negotiating the offer with the best value is really your best shot. 
Whether you are getting a roof replacement or having repairs done which are not reimbursable from your insurer, you can cut down the cost by discussing with your roofing company.  Understand that whether the quote is negotiable or not depends on the roofing contractor.
Roofers in high demand may not be as willing to negotiate as newer contractors still trying to win over customers.
The timing is also a huge factor as peak seasons will make contractors very busy and less accommodating.
Tip #1: Do your homework about the roofing contractor – his reputation and the quality of the work.
Tip#2: If the contractor is well-known and in high demand, you could try to find some wiggle room on the materials rather than the labor cost.
Tip#3: Your contractor will recommend the materials he deems best. You can suggest other materials that are at par in quality to try the lower the price.
Tip#4: If your roof replacement or repair is not an emergency, you can be flexible with the schedule to try to lower the price.
Remember, too, that roofing projects are popular in spring and summer. If you are looking for roof repairs during the off-season, such as during winter, a contractor may be more amenable to knocking down his price.
Always inform your contractor how much you can afford to spend on a roof replacement. He can consider other options to cut down expenses and meet your budget.
When negotiating the cost, start with a figure way below the original price to see how low he is willing to go. Remember, though, to be wary of very low costs because the materials and labor may not be up to standard.
Start looking for the best price for a new roof from reliable roofing contractors in your area.
Fill out the short online form and receive FREE and NO OBLIGATION quotes!
How much does a roof replacement cost?
The cost of a roof replacement varies based on factors such as the location of your home, the type of roof, the size of the roof, the design of the roof (flat, sloped, etc.), and the materials you choose.
Your choice of contractor also affects the price because roofing companies also vary in terms of length of business, insurance, etc.
When it comes to roofing materials, you can choose from a few options, some more expensive than others. While cheaper ones don't last very long, they are easier to get installed if you are on a small budget.
While it is not easy to give an accurate price without considering specific details, we are presenting below the average cost of a roof replacement to guide you in planning your project.
In Canada, the average cost of a roof replacement is from $5,000 to $15,000.
Average cost of a roof replacement

Low Cost

$5,000
Average Cost

$15,000
High Cost

$25,000
If you want an economical solution, a shingled roof is a good choice. For asphalt shingles, the average cost is $2.50/square foot while cedar shingles cost more at $12/square foot.
Wood or cedar shingle roofs cost an average of $800++ per square foot but the lifespan is about 30 to 40 years. Despite its higher price, you can see it is an investment that will last a long time.
Do you need a full or partial roof replacement? 
If you need a complete roof replacement, the cost is higher. Previous materials need to be removed and disposed of.
While a partial replacement can cost about $5,000, a full replacement could cost from $7,500 or more.  The size of the roof and your selected roofing material will account for the price difference.
Roofing Labor Cost per Square Foot
The cost of labor must be considered on top of the cost of the roofing materials. Both will account for your final price.
The labor for roofing projects usually cost about $3 per square foot, depending on the type of roof to be installed and the condition of the roof. Other costs such as the removal of existing materials and their disposal are also considered in the estimate.
Re-roofing a house with a roof of 1,000 square feet costs around $5,000 on the low end.
Popular roofing materials and their lifespan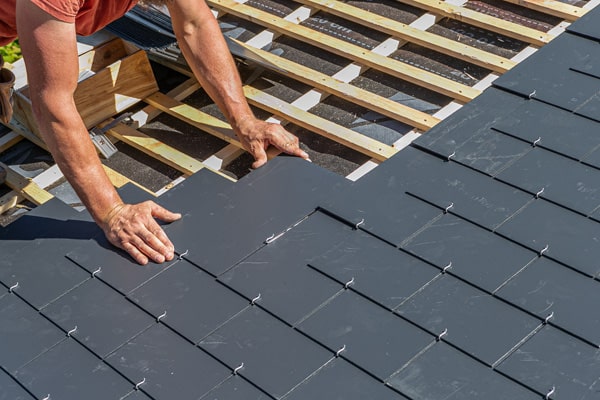 When you are putting in a new roof, you need to know how long you can expect it to last. This depends on the type of material used for your new roof.
| | |
| --- | --- |
| Type of Roofing material | Average Lifespan |
| Aluminum roof | 5-7 years |
| Asphalt shingle roof | 20 years |
| Slate roof | 50 years |
| Wood shake roof | 40 to 50 years |
| Metal roof | 40 to 70 years |
Of course, the better the maintenance you give to your roof, the longer they will last.
FAQs about roofing replacement roofing contractors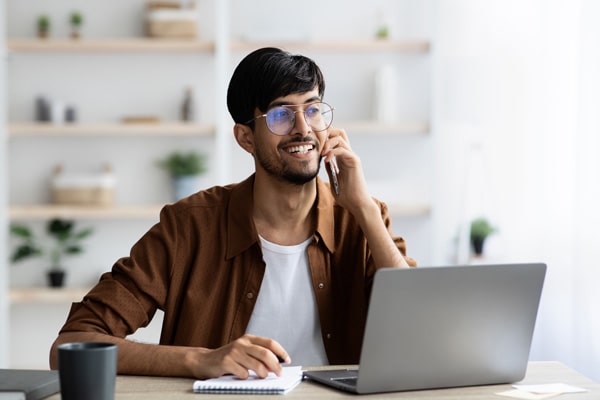 Here are a few FAQs to help in preparing and planning a successful roofing project.
How can I get a roofing quote?
To know the price of your roof replacement, fill out the short online form on this page. Our roofing partners will be happy to send you competitive quotes based on your roofing material so you can choose the best offer.  Our partners will need to know the measurements of your roof and the condition to be able to give you an accurate quote based on the scope of the project.
Are roofing estimates free?
Roofing companies offer free estimates to compete for your project. This will let you know the potential cost of your project and choose from different bids.
Keep in mind that a roofing estimate is just that – an estimate. Once you select a contractor, he will need to inspect the roof and provide you with a more accurate quote.
When should I pay a roofing contractor?
A reputable contractor will never ask for a full payment outright. He will, however, request a deposit to cover at least the materials for your roof.  It must not be more than 30% of the roofing quote. The contract will specify the terms and conditions of the payment.
Is a roof replacement under warranty?
A roof replacement can have different types of warranties – the workmanship warranty (from the roofing contractor), manufacturer's basic warranty, and the manufacturer's extended warranty.
The workmanship warranty from the roofing contractor guarantees the quality of the work. Many contractors offer 10 to 12 years warranty on the roof installation but this also depends on the material used.
The manufacturer's warranty is also called a product warranty and covers any defects on the material.  This does not cover the cost of labor or the cost of disposal.
How often must you replace a roof?
Each type of roof has an average lifespan. Know the life expectancy of your roof and replace it if it has reached its life expectancy or if you experience problems such as leaks.
Should I replace or repair my roof?
It is advisable to replace the roof if repairs have been done and don't solve the issues. The age of the roof is a major consideration. In the long run, it is more cost-effective to replace an aging roof than to continue frequent repairs. Consult a roofing contractor to find the best solution for your roof.
How do I know my roof needs a replacement?
If problems with your roof are frequent, that is a tell-tale sign that you need a replacement.
Other signs include the age of the roof, missing or damaged shingles, leaks that don't get resolved, or loose flashing.
Can I install my new roof?
If you are a roofing professional, go right ahead. A roof replacement requires tools and skills that the average homeowner may not have. Avoid putting yourself and your home at risk and choose a roofing contractor for the job.
Will my home insurance cover the roof replacement?
A home insurance policy may cover roof damage but it varies based on the type of policy and your insurer. Insurance companies evaluate claims based on the cause of the damage and if replacement is absolutely necessary. The best thing to do is to check with your insurer.
Compare free roofing quotes for your roof replacement
Many things in life are negotiable and roofing quotes are no exception!
There are various factors that come into play but since a new roof is a major investment, it doesn't hurt to try to reduce the price.
Interview the roofing contractor, ask for his recommendations, and ask questions about your project. Be well-informed so you can make the right choice.
When a roofing contractor submits a final bid, perhaps it is best to stop pushing. After all, you want quality in your roof and cutting corners to cut down on the price is never a good idea.
Start comparing prices with quotes from our reliable and experienced roofing partners.
Just fill out the form below and connect with top roofing contractors in your area.