Would you like to see the peeling or missing shingles replaced? A metal roof is a good option to consider.
Metal, steel, or aluminum roofs are becoming popular again among homeowners in Quebec.
Style and durability come together in a metal roof! To see if this roofing material is the right choice for you, learn more about its pros and cons.
Get accurate quotes from reputable roofers in your area using our short online form, free and no-obligation!
Why install a metal roof on your house?
Metal roofs have been prevalent in the architectural landscape of Quebec for decades. Many ancestral homes in the countryside feature metal roofs that make them more distinctive and interesting.
Just why are metal roofs becoming trendy again?Advances in technology and the natural strength of metal makes it a very desirable option. Next to shingles and other roofing options, metal sheets offer many advantages.
Is metal roofing appropriate for all types of roofs? It is possible to install a metal roof on most types of houses with a flat roof or at least a very slow slope of not more than 1:12.
Metal sheets are also well-adapted to Quebec's climate and can resist the cold temperatures in winter and the variations with the change in seasons. Metal roofing can provide your house with a durable covering for a long time despite the incessant freeze-thaw phenomenon in Quebec.
Benefits of sheet metal roofs in Quebec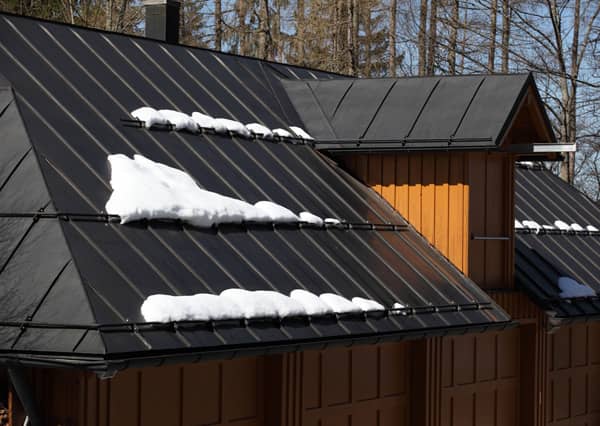 A sheet metal roof can last from 40 to 50 years, on average. The durability of a metal roof makes it one of the best options on the market insofar as price vs. value is concerned.
Many homes with metal roofing have not needed a repair or a replacement during their lifespan. That is, indeed, unbeatable value!
Incredible resistance to weather conditions
Shingles may peel off during strong winds or crack in freezing temperatures. Sheet metal roofs, in contrast, offer far more resistance to these weather conditions. Equipped with a waterproofing membrane, a sheet metal roof has an impermeable covering that will preserve the integrity of your home.
Easy and simple maintenance
Sheet metal roofs resist mold, too! Maintenance is really easy and simple but you will need to watch out for rust.
100% recyclable material
If you are concerned about the environment, you will be happy to know that metal roofing materials are 100% recyclable even after decades of use.
Higher energy efficiency
Rust has reflective properties and acts as an energy-efficient coating. You can avoid energy losses and maintain maximum benefits from heating and air conditioning at all times.
50-year warranties available
Metal roof suppliers know the durability and high quality required by customers and offer warranties of up to 50 years on sheet metal roofing. This protects homeowners from premature appearance of rust or other issues covered by such warranties.
The benefits offered by metal roofing are truly significant. Make an informed choice for your roofing renovation by comparing multiple quotes from experienced roofing contractors from our network.
Just fill out the form below to get FREE and NO-OBLIGATION quotes!
What are the disadvantages of metal roofing?
Now that you know the benefits of metal roofs, it's time to learn any disadvantages from this type of roof.
Higher Price
It is a fact that sheet metal is more expensive than asphalt shingles. However, you are paying for higher quality.
Sheet metal can be twice more expensive than shingles but their lifespan can be 3 times longer.
Thus, if you don't mind paying for higher value and want a long-lasting roof, a metal roof would be a great option for your home.
Noise level
Sheet metal roofs can make more noise during bad weather compared to shingles or other membrane alternatives.  Modern methods of installation reduced the noise level but it can still be something for you to consider.
Complex installation
Shingles can be installed easily by most roofers but sheet metals are something else!
Installing sheet metal roofing is complex and requires skilled labor. For this reason, the cost of installation is higher for sheet metal roofs than asphalt shingles.
Despite these drawbacks, metal roofing is still a very good option for homeowners looking for a roof replacement in Quebec.
Interested in a metal roof? Compare actual quotes from reliable contractors in your area. Just fill out the short online form on this page, free of charge.
The price and lifespan of metal roofing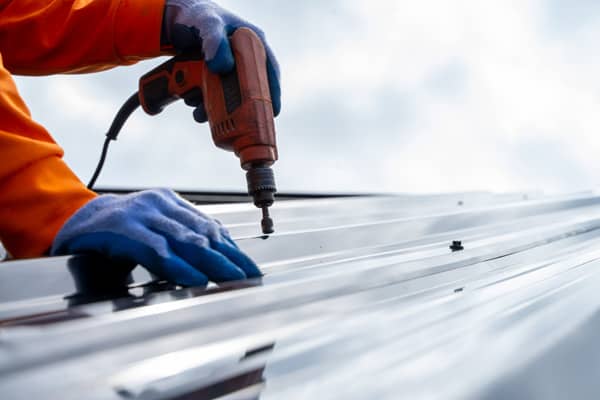 The lifespan of sheet metal is legendary. How long does a metal roof really last?
Compare the cost and lifespan of the different types of metal roofing materials in Quebec in 2022!
| | | |
| --- | --- | --- |
| Type of metal | Average Cost | Lifespan |
| Basic sheet metal | $4 to $5 per sq. ft. | 40 to 50 years |
| Galvanized steel | $10 to $25 per sq. ft. | ++ 50 years |
| Aluminum | $8 to $12 per sq. ft. | ++ 50 years |
| Copper | $20 to $30 per sq. ft. | 70 to 100 years |
In Canada, the average size of a roof is around 2000 sq. ft.  Thus, the cost of installing a metal roof starts at $10,000 but could go as high as $40,000, depending on the type of metal you chose.
Of course, the actual price also depends on your choice of roofing contractor and the condition of your existing roof.
The best way to know how much your new roof will cost is to get actual quotes tailored to your home using our short online form!
We will connect you to the most reliable partners serving your area so you can receive free quotes to compare to save time and money!
How to choose the right metal for your roof?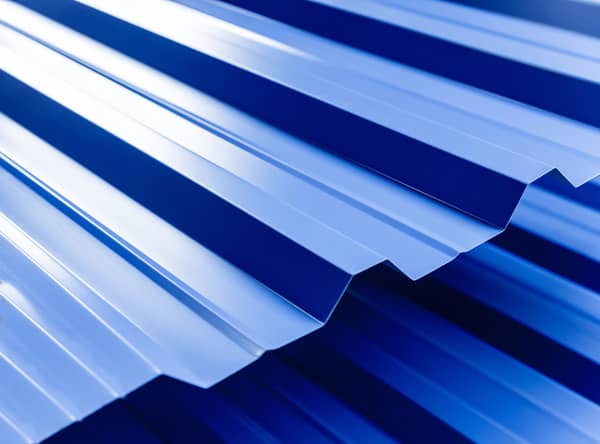 You will find a variety of metal roofing materials on the market. For the best choice, compare their features and weigh their pros and cons.
You should also consult a reliable roofing contractor to know your best options.
Galvanized steel roofing
Galvanized steel or corrugated metal is coated with a barrier of zinc to further insulate the roof from the outside elements. This is also provided with a galvanized finish.
Available in different styles, galvanized steel roofs are highly-resistant to mold and provides excellent value for money.
Stainless steel roofing
This type of metal roof offers increased rust protection as well as thermal properties that allow it to reflect sunlight. While expensive to install, it requires no maintenance for a long time.
Aluminum roofing
Resistant to rust and deformation for a long time, aluminum as a covering can increase home value. It has aesthetic appeal as well as durability for more value for your money.
Copper
This is the most upscale material for metal roofs and can be seen in heritage buildings such as the Chateau Frontenac. This is, by far, the most expensive option.
Essential components of a sheet metal roof
Installing a metal roof is more than just laying sheet metal on the roof. It is a complex process that consists of several layers that are responsible for ensuring an impeccable seal on your roof.
The following components must be installed to ensure a quality installation.
The waterproofing membrane (underlay preventing water infiltration)
Sheet metal screws and rubber rings (prevents water from entering through screw holes)
Moldings, flashings and starter strips (ensures an adequate and waterproof finish)
Finally, sheet metal (depending on the type of metal you have chosen)
Do you have technical questions regarding the installation of a sheet metal roof? Get accurate answers from our expert partners in all types of metal roofing.
Just fill out the form on this page to connect with reliable roofers near you!
Factors that affect the price of Metal Roofing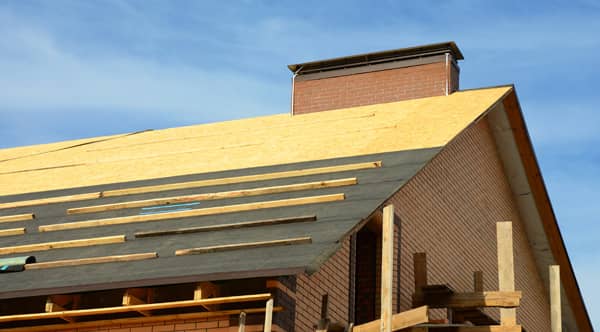 A few factors impact the final cost of a metal roof installation, including:
Substrate Metal
Panel Design
Finishing
Underlayment
Roof design
Location
Labour
Stripping and Disposal
Galvanized steel and aluminum are the most popular options for metal roofing because they both provide excellent value and performance.
For the design, you will find 2 popular options – interlocking panels and overlapping panels.  Interlocking panels are more expensive because they have more details and are more complex to install. They also have a better finish which increases the cost.
The finish or coating is also important as it affects the lifespan of the room and its aesthetics. Polyester paint is cheap but does not last long while PVDF is the industry standard for more durability.
The underlayment is crucial for defense and is also considered in the cost.
The physical location of your house also affects the cost. If special equipment is needed to access it or special permits for parking are required, they are factored into the cost.
Finally, many roofing companies have liability insurance and WSIB which are considered in their cost. If your roofing project is complex and labour-intensive, you pay more for the installation.
FAQS about metal roof installation in Quebec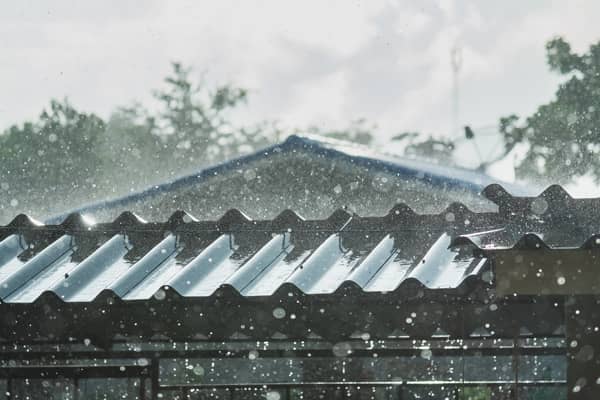 A metal roof renovation is not an easy or inexpensive project so we know you want as much information about it to plan ahead.
Check out these FAQs to give you tips and help you prepare and choose the right roof and contractor for your roof replacement.
How long does a metal roof last in Quebec?
While expensive, a metal roof is a smart investment because it can last for 50 years or more. You can also save on energy bills because metal roofs are energy-efficient.
Is it required to hire a specialized roofer to install a sheet metal roof?
Absolutely! Sheet metal can only be installed by professionals because the technique (cutting, screwing, and laying) requires special skills and tools.
Can rust on a metal roof be treated?
Yes, rust will set in after some time and you can prevent it from spreading by asking a roofer to treat it with paint.
How long will it take to install a metal roof?
It could take from 2 days to over a week, depending on the size of your roof, the weather, and other factors. Your roofing contractor will include the start and finish date of your roofing project in your contract.
Do I need to get a permit for a metal roof installation in Quebec?
How does the cost of metal roofing compare with other roofing materials?
A metal roof can cost three times more than an asphalt shingle roof but remember that it also lasts longer and can save you money in the long-term for maintenance and repairs.
Will the metal roof be noisy when it rains?
This depends on the type and design of your metal roof but in some cases, the noise can be more compared to other types of roofs.  If your metal roof has folds, the noise could be less than a flat metal roof.
Do I need a permit to install a metal roof?
A permit is not usually required to repair or maintain the roof such as for replacing shingles.  If your roof structure is affected or changed or the insulation is affected, you need to obtain a permit. Check with your municipality or coordinate with your roofing contractor if he will obtain any required permits on your behalf.
How does a metal roof affect the value of my home?
A metal roof can increase the resale value of your property. Potential buyers will appreciate the durability of the roof and its low maintenance requirements. It also has aesthetic appeal which can help to sell your home fast.
Is a metal roof more expensive than cedar shake roofing?
No, a metal roof is less expensive than wood or slate roofing and the lifespan is comparable. Also, metal roofs require almost no maintenance whereas cedar shake roofing does.
Won't a metal roof look ugly or plain?
Not at all. Metal roofs come in a variety of designs and colors, thereby increasing their aesthetic appeal. There are shingle-type metal roofing materials as well as interlocking designs for your consideration.
Is it true that metal roofs are fireproof?
One of the reasons for the growing popularity of metal roofs in many parts of Canada is that they fireproof.
What are some of the best characteristics of metal roofs?
Aside from the cost vs. value perspective and their longer lifespan, metal roofs can be ideal for your home because insects like termites cannot eat a metal roof and they are resistant to mildew and mold. They also conduct heat faster so snow slides off faster than on other types of roofs.  Of course, they are also virtually fire-resistant.
As you can see, metal roofs are highly desirable for their many advantages and conveniences to homeowners.
If you need a roof replacement for your home or you are building a new house, consider a sheet metal, aluminum, or steel roof as a smart investment.
Compare roofing quotes for a new metal roof
A well-installed high-quality metal roof is a profitable and long-term investment. It will increase the resale value of your property and give you peace of mind for decades to come!
With a lifespan of 50 years or more, you can feel confident about the roof above your head and not worry about maintenance or repairs for a long time.
You need to choose the right roofing contractor for your roof renovation to ensure you pay the right price and get the best value for your money.
Compare free quotes by filling out the short online form on our page
 from reliable roofing contractors across Quebec!