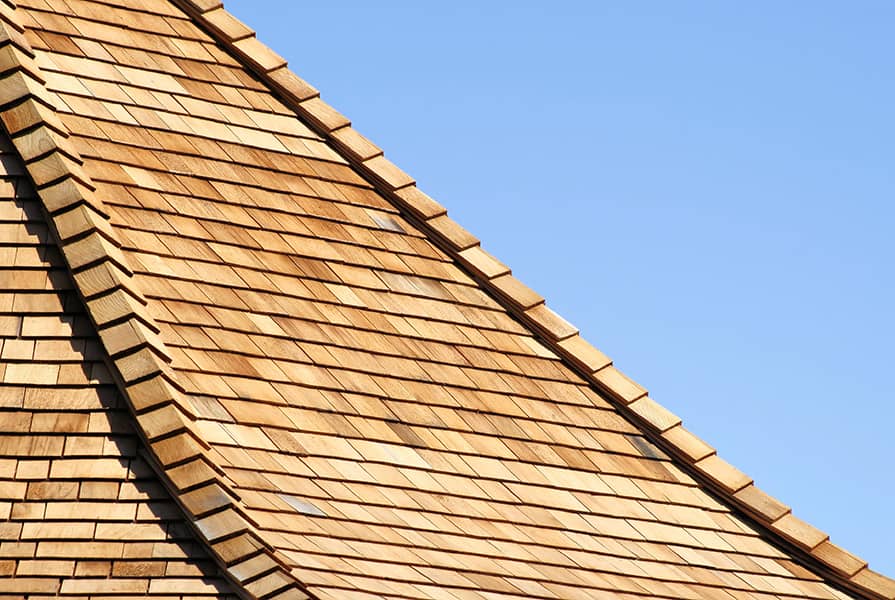 Nothing says quality and durability quite like cedar shingles.
Your house will surely stand out with a cedar shingle roof that speaks of high class and style.  If cedar shingle roofs appeal to you and you want it for your home, the next step is to find out the cost of installing a cedar shingle room in your area.
Compare Roofers Quotes is here to explain in detail the prices, advantages, and even disadvantages of a cedar shingle roof.  You can now make a well-informed choice about your roof so you can feel confident about your decision.
Compare prices of cedar and larch shingle roofs and get free and no-obligation quotes from reliable contractors in your area!
Just fill out our short online form on this page to start saving money and get the most out of your new roof with our reliable partners.
Reasons to choose a cedar shingle roof for your home
This type of roof covering has been popular for centuries. Even in this modern age, homeowners still covet cedar shingle roofs despite the expensive price.
Two types of cedar are commonly used for shingles – white cedar and western red cedar.  They are most resistant and don't rot, hence, they are perfect as roofing materials!
They are so durable that they can last for more than 50 years.
Is it difficult to install cedar shingle roofing?
Yes, this roofing project is complex and should be done by experienced and specialized roofers.
They are also most suitable to houses with sloped roofs. It cannot be installed on a flat roof because it won't have adequate waterproofing.
Cedar is a guarantee of quality and durability. Compare all the advantages and disadvantages of a roof to make the right choice for your home!
Advantages & Disadvantages of a cedar shingle roof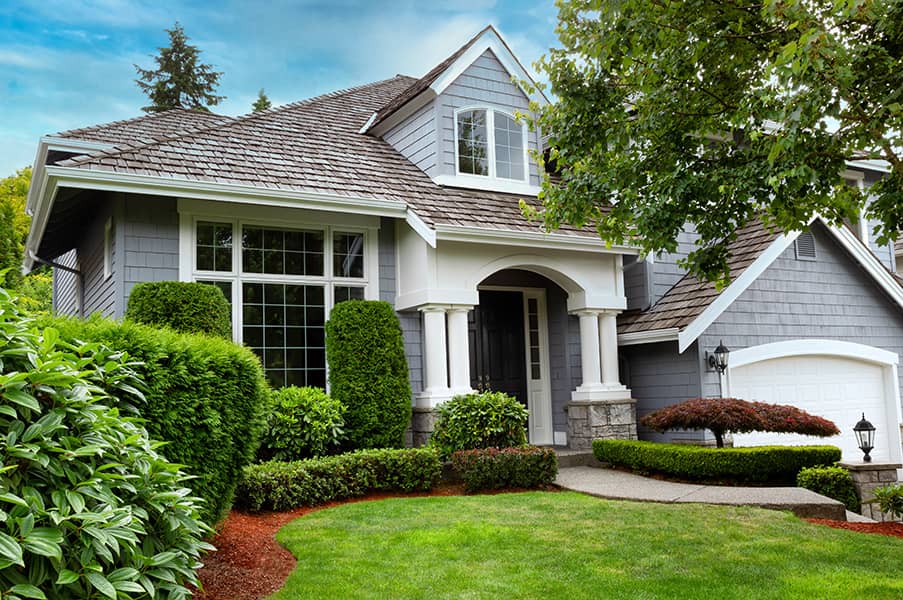 Cedar is a natural material offering great resistance as a roofing shingle! Is this the only advantage of this type of roof? Absolutely not! Below are the benefits of installing a cedar shingle roof.
Advantages of cedar shingle roofs:
Very durable and can last approximately 50 years
Does not rot
Easily to repair
Environment-friendly
Great value for money
Disadvantages of cedar shingle roofs:
Expensive to install
Turns gray in color after a few years
Not suitable for flat roofs
While cedar shingles have some shortcomings, the benefits offered are substantial and far more numerous.
You can spread the the cost of installing cedar shingles over its potential life span of 50 years and you will see how much money you can save over time.  Indeed, you will be getting great value for choosing cedar shingle roofing!
What is the price of installing a cedar shingle roof?
When planning a home renovation, price is always an important determining factor.
Are you going to spend an outrageous amount if you choose a cedar shingle roof?  Not necessarily. While cedar shingles are more expensive than asphalt shingles, the quality-price ratio still makes it a very affordable solution.
Compare the price of larch, cedar, and asphalt shingles to get an idea of the cost of roofing in Ontario in 2022!
| | | |
| --- | --- | --- |
| Type of roofing | Price per square foot | Average lifespan |
| Cedar shingles | $15 | 30 to 50 years |
| Larch shingles | $10 to $25 | 70 to 100 years |
| Asphalt shingles | $3 to $5 | 15 to 20 years |
Why is larch shingle more expensive than cedar?
In terms of quality and durability, larch offers a slightly better performance than cedar. This is the reason for its higher cost. Its longer lifespan can well compensate for the more expensive cost and you will be getting additional quality.
Which type of wood offers the best value for money, larch or cedar?
While larch is more expensive than cedar, the price-performance ratio of these two types of roofing material is similar. Cedar is less expensive but it has a shorter lifespan. By comparing the characteristics of these two wooden roof coverings, we can conclude that the price-quality ratio for the two is very similar.
Is it worth paying for the higher cost of a wooden roof?
In terms of durability, there is no doubt that cedar and larch are at the top of the list because they can last several decades. In contrast, asphalt shingles usually last for only 15-20 years. Cedar and larch are, therefore, almost impossible to match for durability and resistance to the elements except, perhaps, for metal roofs.
Is it difficult to maintain a cedar shingle roof?
Cedar does not require any special maintenance. Over time, your cedar shingles will turn gray and present a more rustic look. This is but natural! By leaving it alone, your cedar shingle will be protected by its natural oils and properties which will be enough for it to maintain its integrity.
Can varnish and stains extend the lifespan of cedar shingles?
Yes, in a complementary fashion! As mentioned, cedar offers a strong natural resistance. However, products such as varnish and stain can prevent premature aging of the cedar and prevent it from graying or deteriorating rapidly. That being said, these products quickly lose their effectiveness in the face of the sun, requiring the application of a new coat after a few years.
Should you wash cedar siding with a pressure washer?
Use this technique with utmost care. Washing an aged cedar shingle with a high-pressure washer could damage the shingle and do more harm than good. Adjust the water pressure and temperature accordingly.
Are larch shingles a good option for a wooden roof?
What is a larch roof? Larch roofing is installed in the form of shingles like cedar. The only difference being that it is a more premium type of wood and therefore more expensive.
Why should you choose larch if it is more expensive to install? Because the benefits are really worth considering. See for yourself!
The benefits of a larch shingles:
Rustic look
Ecological and energy efficient
Does not rot
Resistant to temperature changes
The disadvantages of larch shingles
More expensive cost
Complex installation
Flammable
Maintenance/dyeing required after a few years

In conclusion, both larch and cedar shingles perform very well. You can't go wrong when you choose any of these two for your roof! In the end, price will most likely sway you to one or the other. To give you a fair idea, the average cost to install a cedar asphalt roof is from $12,000 to $18,000 while a larch shingle roof may cost much more.
In Oakville, Toronto, and other areas of the GTA where summers are humid and winters snowy, larch shingles are very popular because they can better withstand the drastic weather.
To get accurate quotes to compare for your roof, fill out the form on this page and connect with top roofing contractors near you, free of charge!
How to repair cedar shingle roofs
Although cedar shingle roofs can last for decades, they are not infallible. Earlier in this article, we mentioned that one of the benefits of cedar shingle roofs is they can be easily repaired.
Some signs that your roof needs to be repaired are leaks and damaged, loose, or missing shingles.  When you call in a roof contractor, he could try to fix the leaks but if they persist, a roof replacement may be necessary. This is more appropriate if your cedar shingle roof is 40 years old or more.
Warping is normal as cedar ages but if the warping is severe, it can lead to leaks. A few shingles can be replaced.
Preventive maintenance on your cedar roof is a good thing to do with help from professional roofers.
If you are experiencing problems with your cedar roof, the best thing to do is to consult one of our roofing partners to find the best solution.
Just fill out the form on this page and get connected to the best roofers in your area, free of charge!
Factors that affect the lifespan of cedar shingle roofs
We can't emphasize enough that cedar shingle roofs are the most durable on the market. Exactly how long a cedar shingle will last can vary from 30 to 50 years, depending on several factors.
Wood quality
Quality of the installation
Foot traffic
Maintenance
Age of the roof
Overhanging trees
If you are planning to install a cedar shingle roof, make sure to hire only qualified roofers that are experts in cedar or larch shingle roof installations.
Compare free and no-commitment quotes today using our short online form and receive competitive offers from our qualified partners serving all of Ontario!
Is it better to reroof with cedar shingles or a new one?
Cedar roofing offers undeniable beauty and elegance. When it comes to a roof replacement, it is the most expensive option.
A few factors can help you decide whether a cedar shingle roof is the right decision for you.
Are you going to live in your home for more than 20 years? If the answer is yes, a cedar shingle roof is a viable option. If your plans are variable, an asphalt shingle roof may be a more practical solution.
Is your budget tight? Asphalt shingles are low on maintenance and cost much less than cedar shingle roofs.  If budget and maintenance are factors that are high on your priority list, you might want to consider asphalt shingles instead.
Obtain multiple quotes from reputable roofers in your area to compare the cost of installing a cedar shingle roof or your other options. Just fill out a short online request form below.
FAQS about Cedar Shingle Roof Installation in Ontario
We know you have some questions about cedar shingle roof installation so we gathered a few ones to guide you in planning your project.
Are wood shingles (cedar/larch) the most durable option on the market?
Wood is one of the most durable roofing materials. Like metal roofs, wood is more durable than membranes and asphalt shingles, making it a truly smart investment. It can also increase your home value.
How long do wooden shingle roofs last?
Wooden shingle roofs can last from 30 to over 50 years, depending on factors such as quality of the wood, the installation, and maintenance and care. Roofers provide warranties from the manufacturers. The warranty for cedar shingles are generally from 30 to 40 years. Some even have extended warranties for over 50 years.
How do I find the right roofer in Ontario?
 There are many roofing companies around Ontario. To narrow your search, request for free quotes using our online request form to receive multiple bids from qualified roofers. When you get your quotes, you can compare prices and choose a contractor based on the company's experience, reputation, customer service, and price offered.
Beginning April 2017, roofing contractors should have a training card for working at heights.
Are cedar shakes and cedar shingles the same?
The right way to differentiate them is by their thickness. Shingles are thinner while shakes are thicker (more than 3/8"). The installation also differs because shingles are installed over felt while shakes are woven into interlays of felt.
 Do I need a contract with a roofing contractor?
Under the Consumer Protection Act, a contractor must provide a contract for any home renovation worth more than $50. You have 10 days to cancel a contract for any reason without incurring a penalty fee. Of course, if the contractor has started the job, you are still responsible for paying for the materials and labor used.
Will installing a cedar shingle roof increase the value of my home?
Since cedar shingle roofs are durable and very attractive, installing one immediately improves your home. With its extended lifespan, you are sure to save money over time. If you plan to sell your property in the future, having a cedar shingle roof will attract more potential buyers and increase home value.
Compare Roofers Quotes for cedar shingle roofs
If a wooden roof that can last over 50 years sounds good to you, look no further.
We have partner roofing companies that specialize in cedar shingles and cedar shake roofs that can help you. Anywhere your home is in Ontario, our partners can over competitive quotes for high-quality roof installation at the best price.
Submit your online request form and get connected to these professionals, free of charge!  You can compare multiple quotes and speak to them directly to save time and money.
It is the easiest and safest way to find a roofing contractor anywhere in Ontario!
Start comparing roofing quotes today by filling out the short online form below.